CBD Oil On Amazon? Everything You Need To Know Before You Buy CBD Online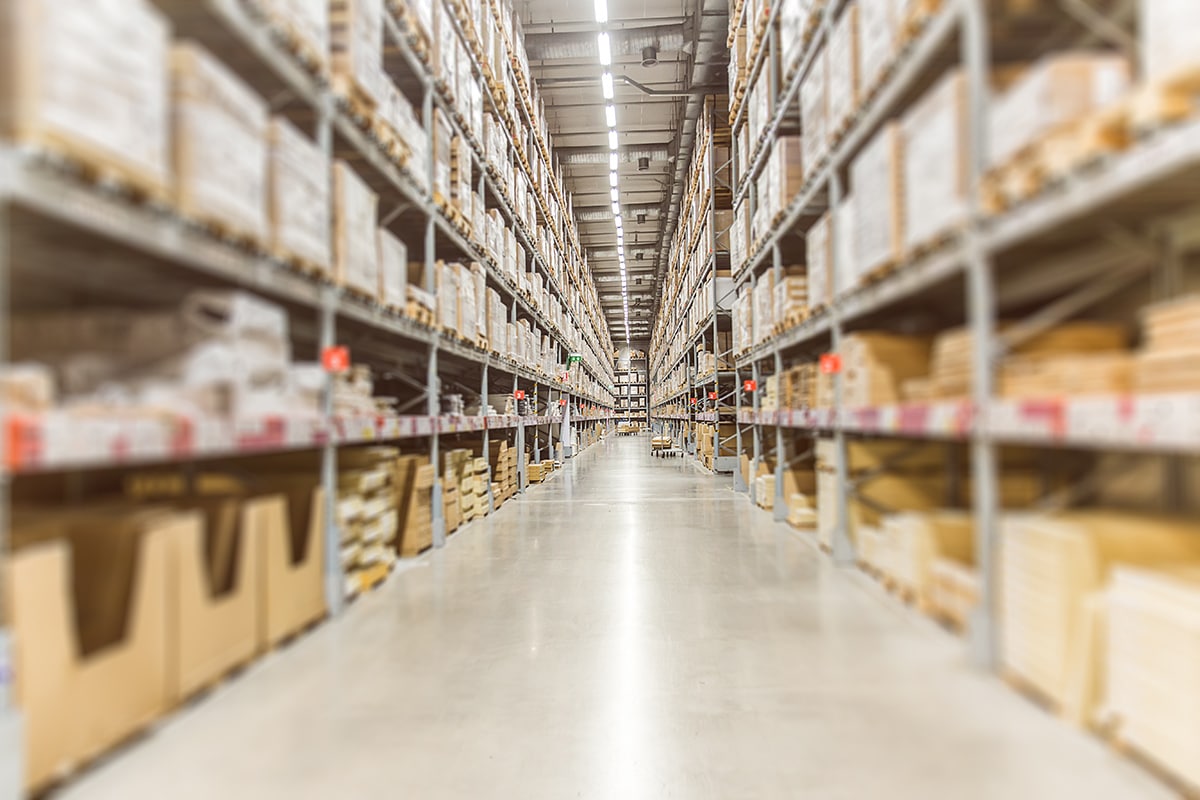 If you've found yourself searching for CBD oil on Amazon, you've likely stumbled upon hundreds of products and a confusing list of descriptions.
You've also probably seen all sorts of numbers indicating product strengths, references to hemp, and scores of reviews from disenchanted customers.
What you did not see on Amazon is products being described explicitly as "CBD Oil."
Now, why would that be? The truth is that pure hemp extracts, cannabinoid oil, and genuine CBD products, like Organica Naturals USDA-certified organic CBD oil, are not for sale on the Amazon marketplace.
Why can't I buy CBD oil on Amazon?
CBD is legal in all 50 U.S. States when manufactured in accordance with the 2018 Farm Bill. This law extensively details the manufacturing and extraction processes required for companies to sell CBD products within the United States legally.
So, even though CBD is sold over-the-counter in retail locations across the country, and despite Amazon offering a selection of topical skincare products through their own Whole Foods and Amazon Fresh platforms, the corporate behemoth has stated that it has no plans to allow companies to sell CBD oil on their U.S.-based and global marketplaces.
These restrictions on the sale of CBD products at Amazon are explicitly defined in Amazon's Compliance Checklist for Drugs & Drug Paraphernalia for Merchants, which states:
"Listings for products containing cannabidiol (CBD) are prohibited, including but not limited to full spectrum hemp oil, rich hemp oil, and products that have been identified as containing CBD."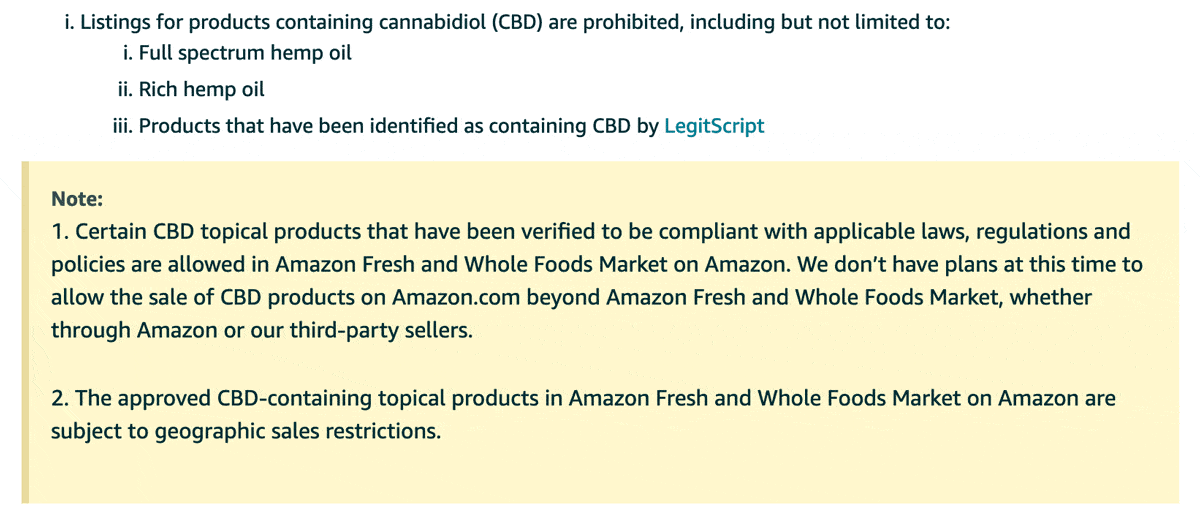 Why do products appear in the results when I search for CBD Oil on Amazon?
According to Amazon, it has restricted the sale of CBD products on its marketplace. Yet, their search algorithms confusingly provide dozens of results when searching for keywords like "CBD oil," "cannabinoid oil," and related products.
This is because Amazon attempts to provide product offerings to customers even if their product of choice is not available.
Remember this when buying CBD oil on Amazon: the results you see that may resemble CBD oil and other CBD products do not, per Amazon policies, actually contain the active ingredient CBD in them. Instead, you will likely see ingredient listings for "hemp seed oil," "hemp oil," or other derivatives of hemp-based products. But no CBD or other cannabinoids.
So, if you purchase one of these products, you'll most likely receive true snake oil — a substance sold as something it is not — instead of a genuine CBD product.
The difference between CBD oil, hemp seed oil, hemp extract and hemp oil
While some products provided in Amazon search results are correctly described by the companies offering them, many sellers stretch certain terminology to imply that they are selling CBD oil when they are, in fact, not.
Here are the most common product descriptions you will see on Amazon.com and what they mean.
CBD Oil
Though you may not see the term "CBD Oil" in product search results at Amazon, it is important to provide a baseline to understand the difference between CBD products and other products you'll see for sale on Amazon.
CBD oil contains a unique hemp compound called cannabidiol that's only present in the aerial parts of the plant (i.e., the leaves and flowers, also known as buds).
This compound is extracted from hemp-based cannabis through the use of specialized processes that include sub-zero extraction, hydrocarbon extraction, and critical CO2 extraction.
For an oil to be truly defined as a "CBD oil," it must contain the compound cannabidiol.
Because manufacturers cannot sell CBD oil on Amazon, you will not find products with this description anywhere in the marketplace.
Hemp Extract
Hemp extracts broadly describe products that may contain any number of compounds that have been isolated, or extracted, from hemp leaves, stems, and buds.
Because CBD oil is understood to contain the hemp-derived compound cannabidiol, it is also often referred to as a hemp extract.
In addition to CBD, manufacturers can also extract other cannabinoids and compounds from hemp, including Cannabinol (CBN), Cannabigerol (CBG), Cannabichromene (CBC), Delta-8 THC, as well as aromatic medicinal compounds called terpenes. Products that contain cannabinoids that are not CBD, for example, CBN oil or CBG oil, may also be called hemp extracts.
Some Amazon merchants will use the term "extract" in their product descriptions but fail to mention precisely what was extracted and used in the oil.
Unless the product description explicitly notes the type of extract used (CBD, CBN, CBG, or another cannabinoid), you cannot trust that the product contains any.
Hemp Seed Oil
Hemp seed oil is traditionally understood to be manufactured from the seed of the Cannabis Sativa plant.
Hemp seeds are nutritious and rich in Omega fatty acids, vitamins, and minerals. Hemp seed oils such as Cannabiva Naked Hemp Seed Oil do not contain CBD or other compounds that Amazon restricts.
What hemp seeds do not contain in any appreciable amount whatsoever is CBD. Hemp seeds actually contain no cannabinoids, except for a very tiny amount of THC below 0.3% by dry weight.
Some merchants will use the term "hemp seed oil" to muddle their product description and loosely imply it is a CBD oil. Unless they have expressly noted that the oil they're offering contains cannabidiol, it is not a CBD oil.
Hemp Oil
The term "hemp oil" is typically used as a catch-all product descriptor for hemp-based products on Amazon and other online marketplaces that restrict the sale of authentic CBD products.
Companies that sell "hemp oil" on Amazon may mention that the product contains hemp extracts but will often fail to specify which extracts they contain. This leaves consumers with an air of uncertainty, as the product descriptions are intentionally unclear.
When you buy a hemp oil product on Amazon, it does not contain CBD or any other cannabinoid extract and is most likely a traditional hemp seed oil priced as if it were a genuine CBD product.
What do those numbers on the label mean? Understanding Amazon hemp product labeling
A quick search for CBD oil for sale on Amazon will yield compelling product results.
You'll see products identified as "High Potency" or "High Strength" with numbers like 500, 1000, 2500, or 5000 on the label.
Genuine CBD oils use this standardized numbering system to specify the total amount of cannabidiol in the bottle. These numbers cannot be applied to the hemp oil blends on Amazon because the product you are probably getting — a traditional hemp seed oil — does not have any CBD.
Hemp oils at Amazon purporting to contain cannabidiol will also use these numbers to mimic CBD products. But, they are used purely for marketing purposes and essentially meaningless as there is no CBD in the product. The number designation doesn't make sense and is being used to confuse consumers to imply that the product contains high-concentrate extracts.
What should I look for on a CBD label?
An authentic CBD product containing cannabidiol extract will clearly inform the consumer on the product label.
True full spectrum CBD oil, like Organica Naturals CBD, lists this number to designate the potency or strength of a particular CBD oil blend. Additionally, the Nutrition Facts label on every Organica Naturals product breaks down total CBD content by 1 mL dose, so you always know how much CBD you are taking.
For example, full spectrum CBD oil and broad spectrum CBD oil from Organica Naturals with "5000MG" printed on the label indicate that there are 30 doses of 1 mL each with 167 mg CBD per individual dose. Or a total of 5000 mg CBD per bottle.
Review the Organica Naturals 5000MG Full Spectrum CBD Oil label below and see what an accurate CBD oil product label should look like: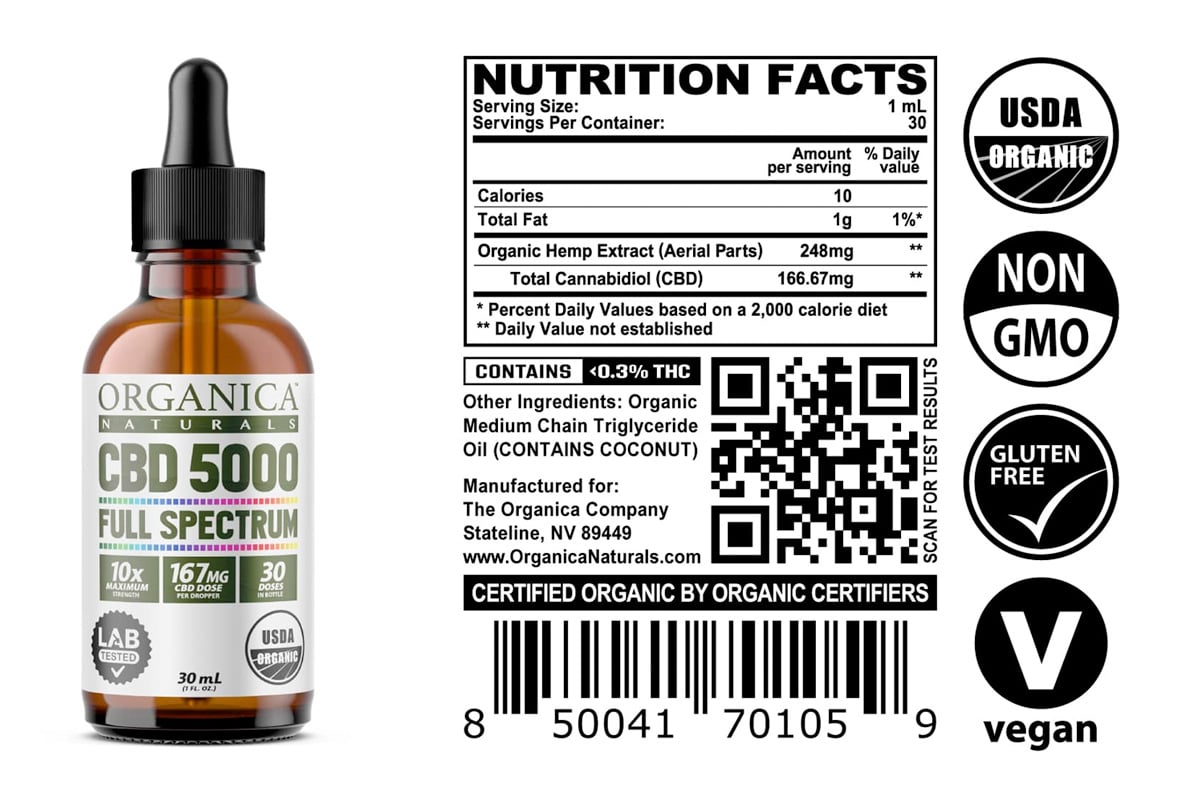 Notice that an authentic CBD label like the one above includes the following key elements:
The primary extract found in the blend (Cannabidiol / CBD)
The blend type (Full Spectrum CBD, Broad Spectrum CBD, Pure Isolate CBD)
The total amount of cannabidiol in the bottle
The part of the plant that is used to manufacture the extract
The amount of CBD in every serving or dose
The amount of THC in the blend (The 2018 Farm Bill requires that all over-the-counter CBD products contain less than 0.3% THC)
Scannable QR code that shows the product latest Certificate of Analysis (COA) that includes potency results of CBD, THC, and other cannabinoids detected
Where do I find the best CBD Oil?
Most consumers will instinctively look for the best CBD oil on Amazon, but you'll need to look elsewhere if you intend to take an authentic CBD product blend.
Organica Naturals offers true full spectrum CBD oil and broad spectrum CBD oil that is tested at every level of production to ensure the accuracy of the cannabinoid content printed on the product label. These CBD products comply with federal regulations and can be shipped to users in all 50 U.S. States.
With varying blends to choose from depending on your specific CBD dosage needs, you're sure to find the perfect CBD oil just for you.