EVERYTHING IS BUY ONE GET ONE FREE
Savings Automatically Applied In Shopping Cart

FREE CBD OIL SAMPLE - INSTANT GIVEAWAY
NO PURCHASE NECESSARY TO CLAIM YOUR FREE CBD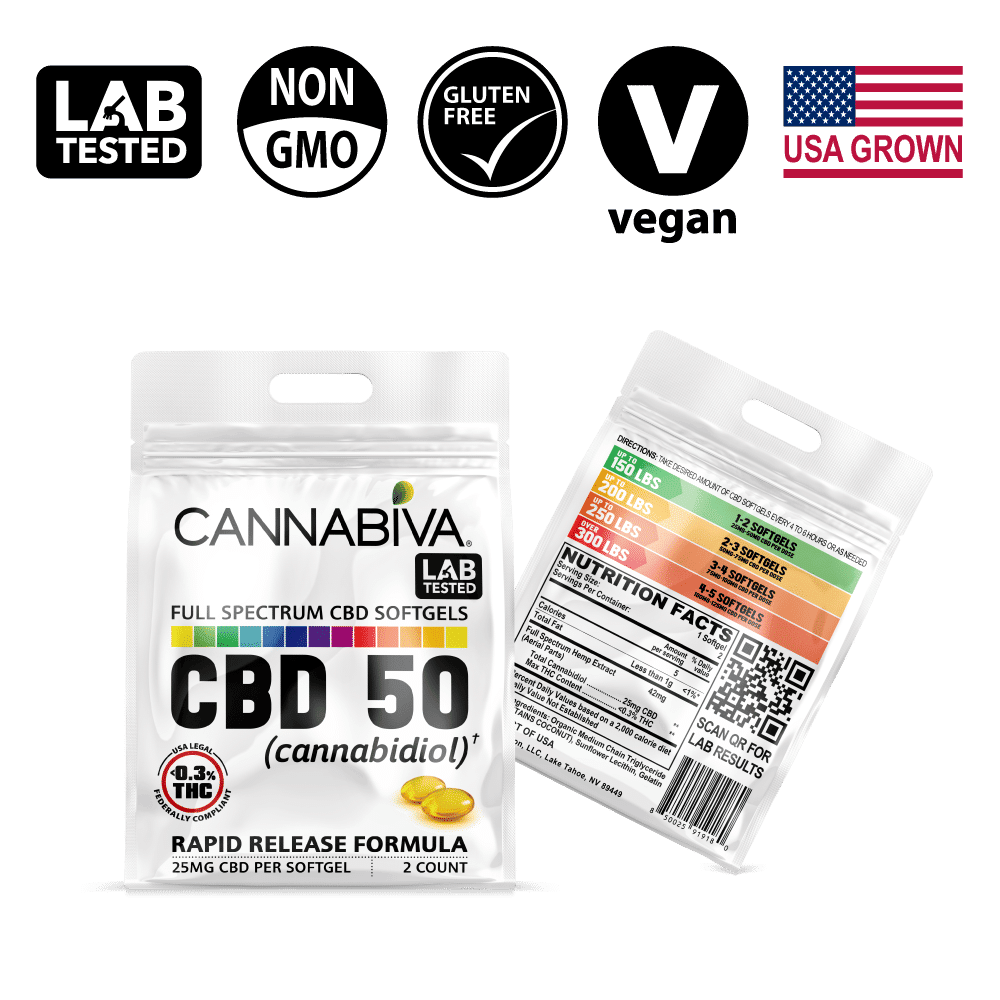 You are moments away from claiming your FREE Cannabiva CBD Oil SoftGel Sample Pack!
When we say FREE CBD, we mean it. No gimmicks, no strings, no catch. We won't ask you for any credit card or payment information.
Cannabiva CBD Oil SoftGel Sample Packs contain two 25 mg rapid release CBD SoftGels that are odorless, flavorless, and sealed for freshness.
Free CBD Sample valid in the USA only. Limit one per household.
We never share your personal information with anyone. Your information will be used to fulfill your FREE CBD sample request today, enhance your experience on this website, and other purposes described in our privacy policy.
Cannabiva is a true full spectrum CBD oil, because it's made using a whole plant cannabis extract that's absolutely loaded with cannabinoids and terpenes! Cannabiva Full Spectrum CBD Oil SoftGels provide essential cannabinoids, like Cannabinol (CBN), Cannabigerol (CBG), Cannabichromene (CBC) and Tetrahydrocannabinol (THC), as well as over 25 authentic, cannabis-derived terpenes in every dose.¹
Cannabinoids and terpenes work together to amplify and enhance the benefits of Cannabiva CBD oil making it much more effective than taking just CBD alone. This natural phenomenon is called the entourage effect, and it describes how the various phytonutrients in our whole plant CBD extracts work in synergy to promote superior entourage benefits vs other CBD brands.
Cannabiva CBD oil is a pharmacologically active natural medicine. This means it can bind to special receptor sites in the body and interact with them in a way that causes positive physical changes.²
Take 1 or 2 Cannabiva Full Spectrum CBD Oil SoftGels once or more times daily for best results.
¹ Contains an insignificant amount of THC (less than 0.3% THC by volume).
² These statements have not been evaluated by the Food and Drug Administration. This product is not intended to diagnose, treat, cure, or prevent any disease.

CBD Questions and Answers
Cannabidiol [pronounced CAN-uh-BID-ee-all] is the active ingredient in Cannabiva™ Full Spectrum CBD products. It is a non-intoxicating natural medicine that is derived from the cannabis sativa plant. CBD is just one of numerous pharmacologically active compounds called cannabinoids that can be extracted from cannabis and used therapeutically.
Cannabinoids like CBD bind to special receptors in the body to promote positive physical changes. Together, this biological network of receptors make up what is known as the endocannabinoid system, or the ECS. The ECS is important because it regulates mood balance, fight-or-flight response, memory, emotional outlook, sleep/wake cycles, pain sensation, motor control, immune system function, and body temperature.
CBD is non-intoxicating, non-habit forming, and does not cause psychoactive effects. That's why you cannot get "high" when taking CBD SoftGels from Cannabiva.
While Full Spectrum CBD tinctures and capsules contain trace amounts of THC, they are all manufactured with strict compliance to Federal regulations, which require that THC content is less than 0.3%. This amount is negligible and cannot cause any psychoactive effects.
Consider trying our Broad Spectrum CBD SoftGels (0.0% THC) if you are interested in a THC-free CBD option.
You may test positive on a drug screening that specifically tests for THC if you are taking a CBD product that also contains THC, however minuscule the amount. It is not advisable to use a Full Spectrum CBD formula if you are randomly drug screened for this reason.
Drug screenings that test for THC may show a positive test result if you are taking Cannabiva™ Full Spectrum CBD. For this reason, you should not take Cannabiva™ Full Spectrum CBD if you are randomly drug screened.
Consider trying Cannabiva™ Broad Spectrum CBD SoftGels (0.0% THC) if you are interested in a THC-free CBD option.*
* We cannot guarantee a negative result on your individual drug screening due to a variety of complex testing factors, which include drug screening sensitivity, testing method used, and concentration cutoff limits. Consult with a qualified medical professional so you may conduct an appropriate risk/benefit analysis prior to CBD use.
Yes, you can! That's because Cannabiva Full Spectrum CBD SoftGels do not contain any marijuana whatsoever.
Cannabiva CBD is formulated using a 100% legal cannabis strain approved for use in hemp-derived products by the United States Department of Agriculture (USDA.gov).
CBD SoftGels from Cannabiva are laboratory tested for THC compliance and contain up to 0.3% THC by volume.
Rapid release Cannabiva™ Full Spectrum CBD SoftGels are fast-acting. Most people report feeling noticeable benefits within the first dose. Your individual results will vary.