Free CBD Samples 7-Day Starter Pack



Claim Your Free CBD Oil Samples Through This Special Offer!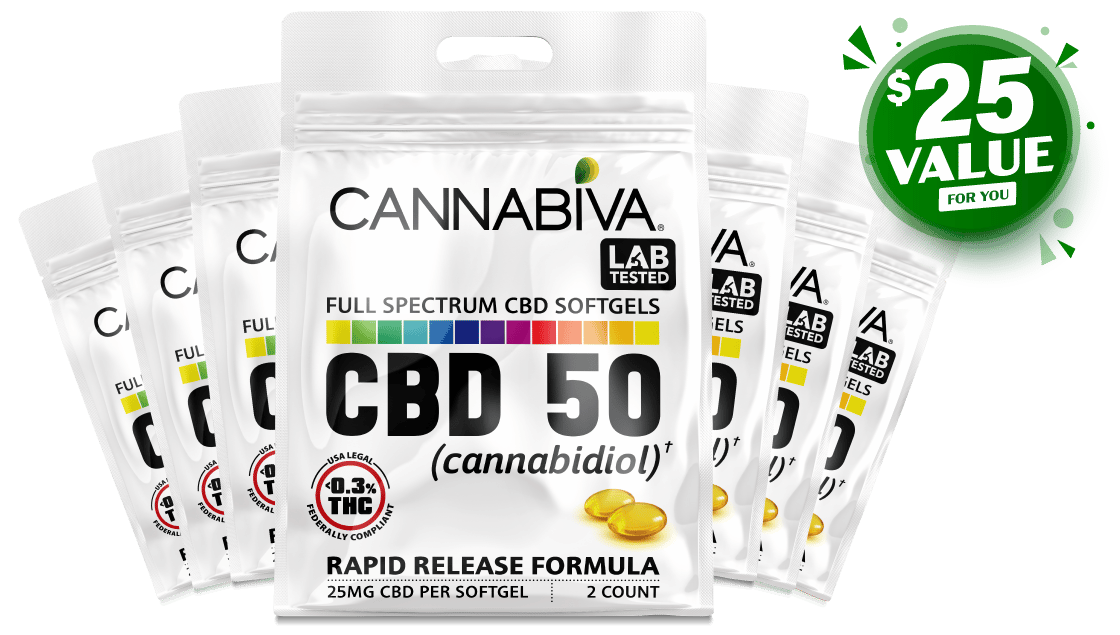 Yes, we are really giving away free CBD samples through our exclusive partnership with Cannabiva!¹
We'll send you a 7-day trial sample of Cannabiva brand free CBD softgels — a $25 value — when you claim your offer today.
Free CBD samples are limited, so act now. Offer good only while supplies last.
CLAIM YOUR FREE CBD SAMPLES HERE
Free CBD samples offer valid in the USA only. Limit one per household.
What makes Cannabiva brand CBD softgels so unique?
They're made using a whole-plant cannabis extract that's absolutely loaded with cannabinoids and terpenes!
Cannabiva Full Spectrum CBD Oil Softgels provide essential minor cannabinoids, like Cannabinol (CBN), Cannabigerol (CBG), Cannabichromene (CBC) and Tetrahydrocannabinol (THC), as well as over 25 authentic, cannabis-derived terpenes in every dose.²
Plant medicines like cannabinoids and terpenes work together to amplify and enhance Cannabiva CBD. The more cannabinoids and terpenes in your CBD, the better.³
Claim your free CBD samples today and we'll send you a week's worth of CBD softgels. That's plenty of time for them to work their magic and help you decide if Cannabiva is right for you.
¹ Pay just $4.95 S&H for your one week supply of free CBD samples today — a $25 value! Limit one 7-day starter pack of free CBD samples per household. Valid in the USA and Puerto Rico only. This is not a subscription service. You will never be automatically billed. Free CBD samples offer good while supplies last.

² Full spectrum CBD softgels contain up to 0.3% THC. Broad spectrum CBD softgels are THC-free and contain 0.0% THC.

³ These statements have not been evaluated by the Food and Drug Administration. This product is not intended to diagnose, treat, cure, or prevent any disease.

Frequently Asked Questions
It sure is!
Claim your free CBD samples using the form above and we'll send you seven day's worth of CBD — a $25 value — absolutely FREE!
You'll have an entire week to try Cannabiva CBD Softgels and let them work their magic.
Pay only 4.95 S&H today to claim your FREE 7-Day CBD Sample Pack.
We will never bill you automatically!
This offer for free CBD samples is not a subscription service. So, you don't have to worry about unexpected charges or deliveries after you claim your free CBD samples today.
It's really easy to claim your free samples of CBD today!
Use the claim form above to enter your details and then click 'Get My Free CBD Samples' to complete the checkout process — that's it!
We will take care of the rest.
You can expect your samples to arrive in less than a week's time.
We'll send you seven packs of free CBD softgel samples.
Your CBD sample packs come with two 25 mg softgels each.
That's a total of 350 mg CBD for the entire 7-day supply — a $25 value — absolutely FREE!
Choose between Full Spectrum CBD softgel capsules with THC (0.3% THC by volume) or Broad Spectrum CBD softgel capsules with no THC (0.0% THC by volume).
Cannabiva rapid release CBD softgels are fast-acting!
Most users report feeling noticeable benefits within the first one or two days. For best results, take Cannabiva CBD for seven days to know if it's right for you.
Free CBD samples from Cannabiva are safe and non-intoxicating natural medicines from the cannabis plant.
Side effects are rare when using CBD as directed. Less than one-half of one percent (<0.5%) of Cannabiva users report an adverse reaction, which may include dry mouth, increased appetite, or stomach upset. Allergic reactions are not common. Check with your doctor if you have a history of allergies or a sensitivity to certain foods, prescribed or over-the-counter medications, or other plant-derived medicines.
Absolutely!
Both Full Spectrum and Broad Spectrum Cannabiva CBD Softgels are formulated using a legal cannabis strain approved for use in hemp-derived products by the United States Department of Agriculture (USDA.gov).
All Cannabiva CBD products are independently lab tested through 3rd-party labs to ensure they are federally compliant and 100% legal in the USA.
Never!
Free CBD samples from Cannabiva are non-psychoactive and non-intoxicating, so they can never make you feel "high" or "stoned" no matter how much you take.
You may test positive on a drug screening that specifically tests for THC if you are taking a CBD product that also contains THC, however minuscule the amount. It is not advisable to use a Full Spectrum CBD formula if you are randomly drug screened for this reason.
Drug screenings that test for THC may show a positive test result if you are taking Cannabiva Full Spectrum CBD. For this reason, you should not take Cannabiva Full Spectrum CBD if you are randomly drug screened.
Consider trying Cannabiva Broad Spectrum CBD SoftGels (0.0% THC) if you are interested in a THC-free CBD option.*
* We cannot guarantee a negative result on your individual drug screening due to a variety of complex testing factors, which include drug screening sensitivity, testing method used, and concentration cutoff limits. Consult with a qualified medical professional so you may conduct an appropriate risk/benefit analysis prior to CBD use.