250mg Full Spectrum Pocket Size CBD Oil Tincture
(1.0mg/Drop × 250 Doses) 15 mL
Take your Organica Naturals 250mg Full Spectrum Pocket Size CBD Oil with you on the go!
Concentrated 250mg CBD formula delivers 1.0mg of CBD per drop (16.67mg per 1 mL), so you get over 250 single-drop doses in each 15mL bottle.¹
Our Full Spectrum CBD protects the integrity of the entire spectrum of phytonutrients — synergistic cannabinoids, terpenes, essential oils, and other medicinal compounds — derived from the cannabis plant.²
Pocket-sized Organica Naturals 250mg Full Spectrum CBD Oil supports your health and wellbeing wherever you are!
100% Full Spectrum Cannabidiol
60-Day Satisfaction Guarantee
Bottle size: ½ FL OZ (15mL)
CBD concentration/1 drop: 1.0mg CBD/drop (~17 drops/mL)
CBD concentration/1 mL: 16.667mg CBD/mL
CBD concentration/15 mL bottle: Over 250mg CBD/15 mL bottle
Total single-drop doses per bottle: 250+ doses
Third Party Lab Test: View Certificate Of Analysis
¹ Lasts up to 30 days, based on average CBD usage statistics of ½ mL taken daily.
² Contains an insignificant amount of THC (<0.3% THC by volume).
Wellness Plan
Monthly Shipments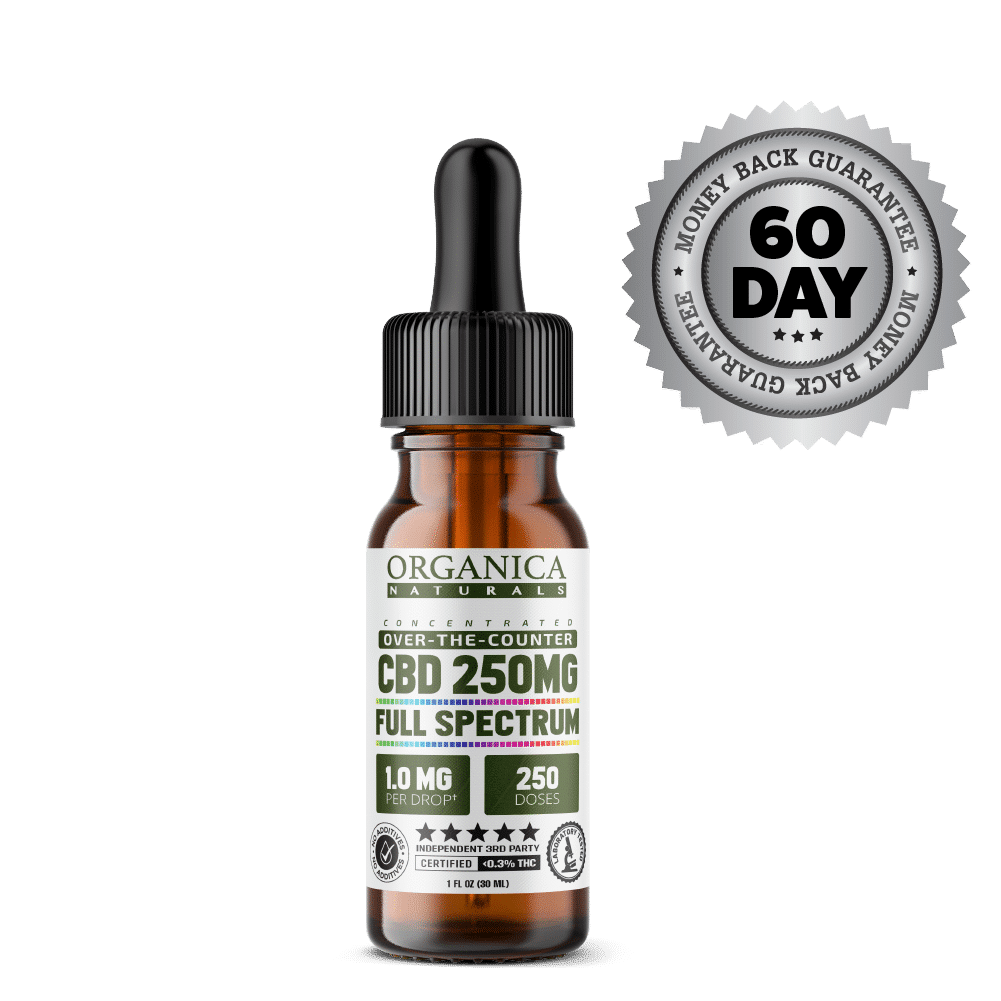 $20.00
ONE MONTH SUPPLY
(15 ml/ 250 Doses)
Save $5 instantly when you enroll in a Wellness Plan. Make sure you never run out of CBD!
Single Bottle
One-Time Only Shipment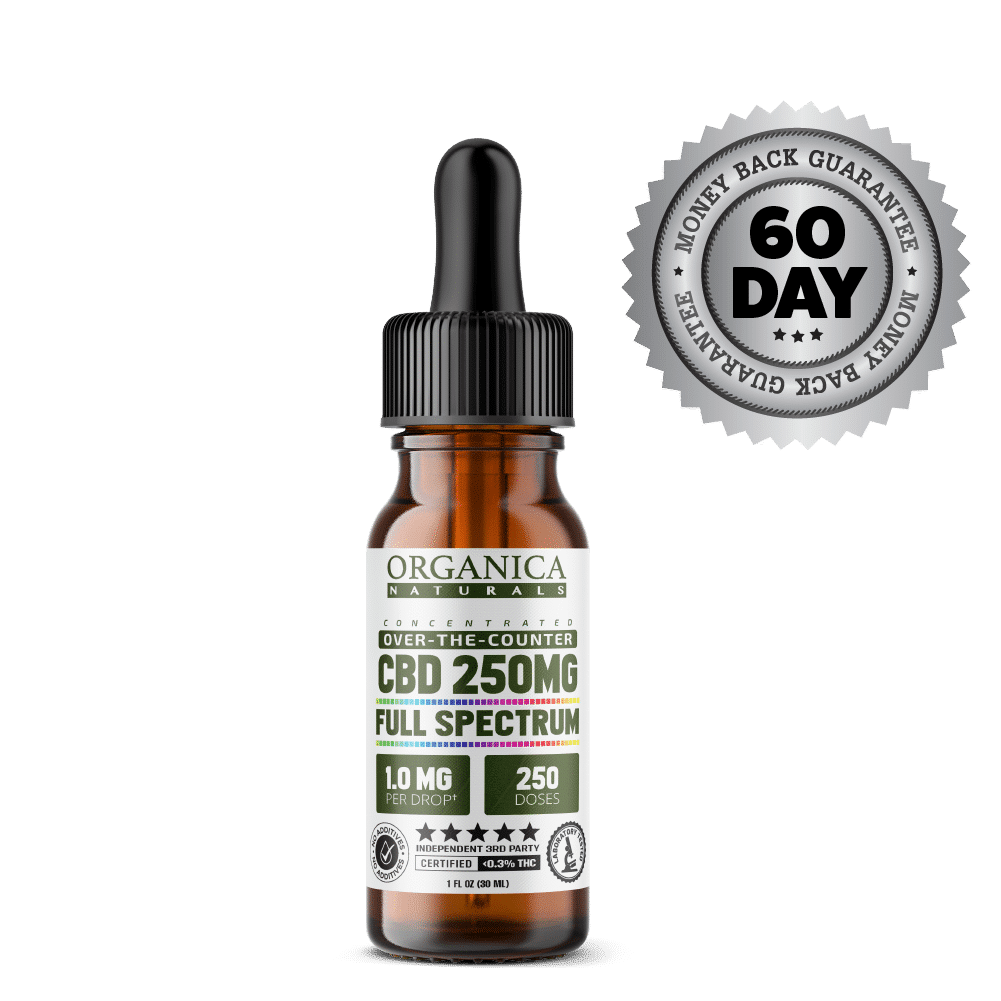 $25.00
ONE MONTH SUPPLY
(15 ml / 250 Doses)
Buy a one-time shipment of a single bottle at the special purchase price.
Three Bottles
Best Savings!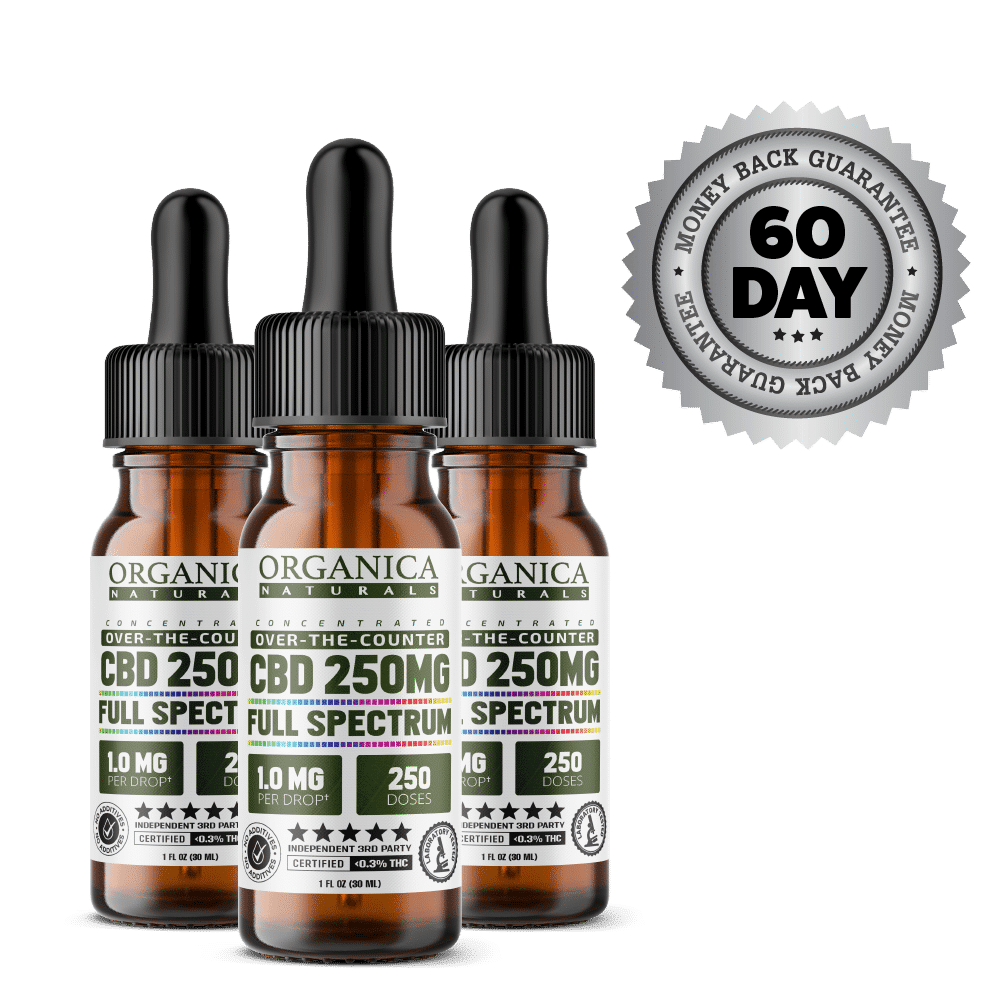 $65.00
THREE MONTH SUPPLY
45mL (750 Doses)
Maximize savings — buy your favorite formula in bulk to save $10 instantly (limited time offer).