500mg Zero High™ Extra Strength CBN Oil (Cannabinol)
17mg Per Dose x 30 Doses (30mL)

THIS ITEM IS ELIGIBLE FOR BUY ONE GET ONE FREE: Purchase any CBN oil package and receive the second one FREE. Please add your preferred item to your cart and your free bottle(s) and coupon code will be automatically applied.
Extra Strength Zero High® CBN 500 Cannabinol Oil is a radically purified CBN oil tincture that is so pure, it's clear℠ — and 100% THC-free!¹
Zero High® CBN 500 Cannabinol Oil is 5x stronger than our mildest strength CBN formula, so you get over 17 milligrams of CBN per 1mL dropperful. Each 30mL bottle of Zero High® CBN 500 is formulated with 500 milligrams of our pharmaceutical-grade CBN isolate powder that is over 97.5% pure.²
We use just two ingredients in Zero High® CBN 500: organically-grown hemp CBN extract and medium chain triglyceride (MCT) oil derived from USDA organic certified coconuts. The hemp we use to produce Zero High® CBN is always non-GMO and absolutely 100% free from pesticides, heavy metals, or harmful chemicals according to independent laboratory analysis and 3rd-party review. No additives, synthetic ingredients, or preservatives are used in Zero High® CBN 500.
Take Extra Strength Zero High® CBN 500 every night at bedtime to fall asleep faster, stay asleep longer, and wake up feeling refreshed.³
60-Day Satisfaction Guarantee
Bottle size: 1 FL OZ (30mL)
Total Doses Per Bottle: 30 Doses (1mL x 30)
CBN concentration/ 1mL: 17mg CBN/mL
Total CBN per bottle: 500mg
Extract: Pure CBN Isolate
Carrier Oil: Organic MCT Oil
Third Party Lab Test: View Certificate Of Analysis
¹ Zero High® CBN is triple tested to guarantee it contains 0.00% THC or your money back.
² One 30mL Zero High® CBN bottle lasts up to 30 days, based on average CBN use.
³ This product is not FDA-approved to diagnose, treat, cure, or prevent any disease.

Wellness Plan
Monthly Shipments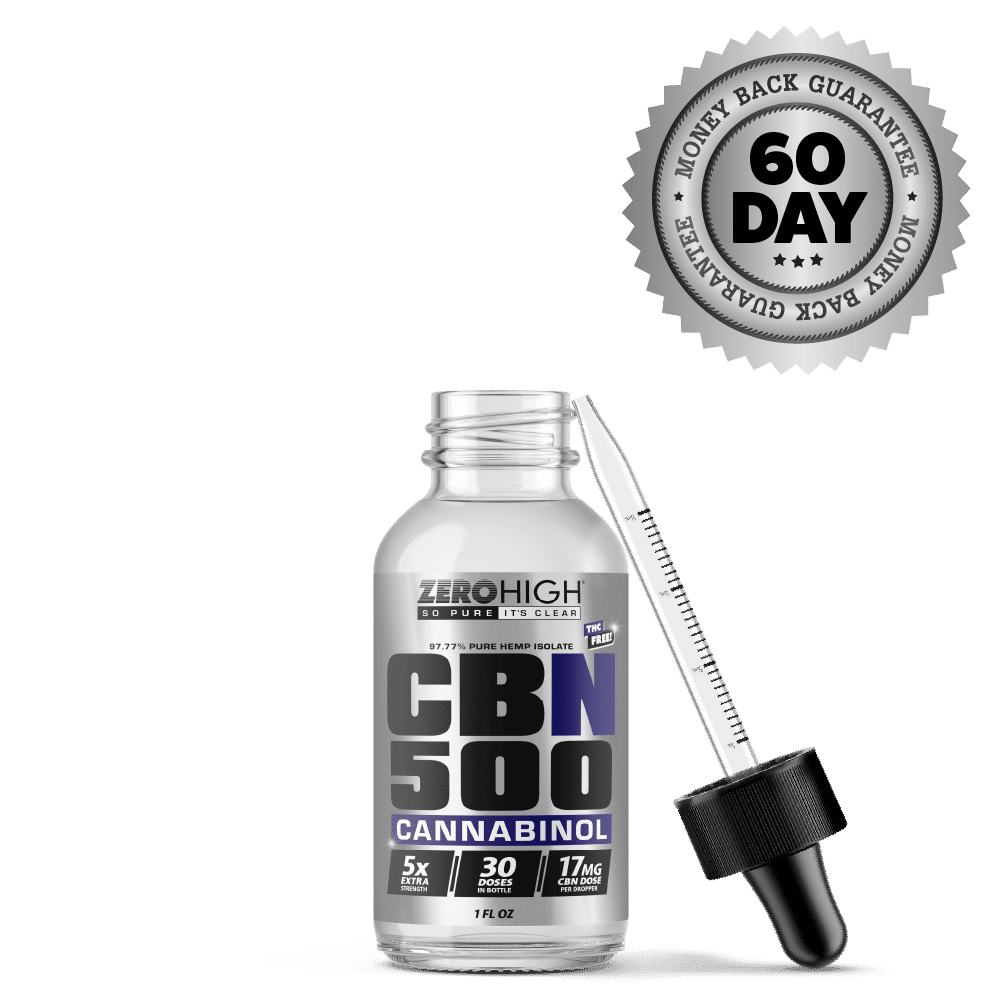 $65.00
MONTHLY WELLNESS PLAN
(30mL / 30 Doses)
Save 15% instantly when you enroll in a Wellness Plan. Make sure you never run out of CBN!
Single Bottle
One-Time Shipment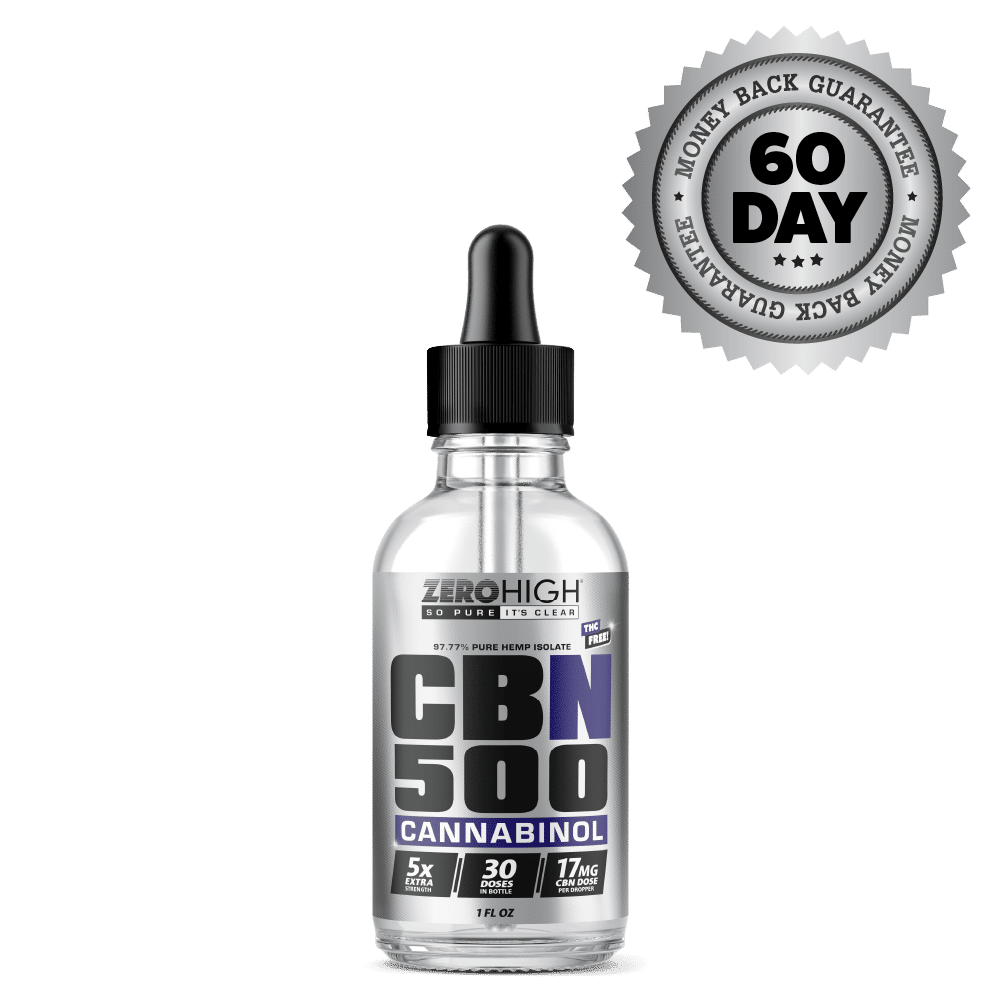 $70.00
ONE MONTH SUPPLY
(30mL / 30 Doses)
Buy a one-time, single bottle shipment.
Three Bottles
Best Savings!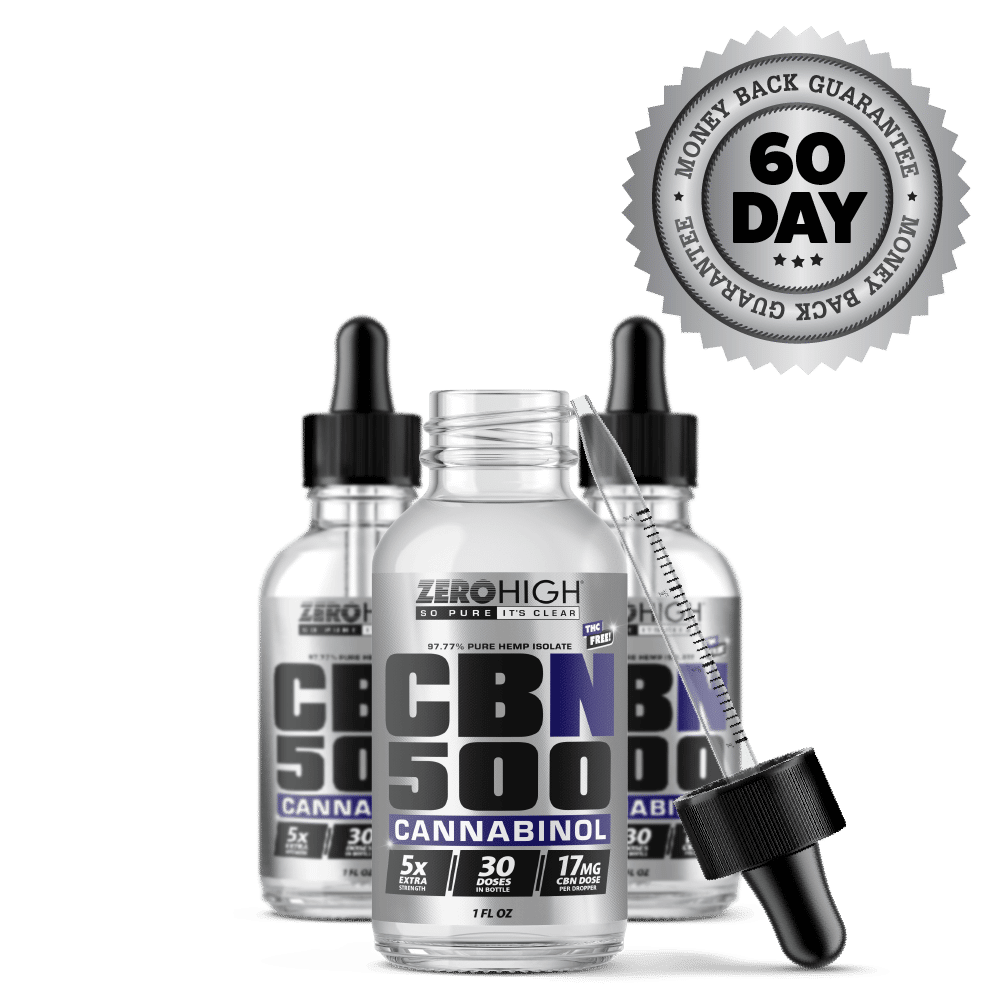 $175.00
THREE MONTH SUPPLY
(90mL / 90 Doses)
Maximize savings — buy your favorite formula in bulk to save $20 instantly (limited time offer).