250mg Zero High™ Regular Strength CBG Oil (Cannabigerol)
8mg Per Dose x 30 Doses (30mL)

CBG 250 Cannabigerol Oil from Zero High® is a radically purified CBG tincture that's so pure, it's clear℠ – and it's 100% THC-free!¹
This CBG 250 regular strength blend is 2.5x stronger than our original strength formula and contains 8 milligrams of CBG per 1mL dropperful. Each bottle of CBG 250 contains 30 milliliters of CBG oil – equivalent to 30 doses – and is blended with our pharmaceutical-grade CBG isolate powder that is over 95.5% pure.²
Zero High® CBG 250 uses just two ingredients: organically-grown hemp CBG extract and medium chain triglyceride (MCT) oil derived from USDA organic certified coconuts. The hemp we use to produce Zero High® CBG is always non-GMO and absolutely 100% free from pesticides, heavy metals, or harmful chemicals according to independent laboratory analysis and 3rd-party review. No additives, synthetic ingredients, or preservatives are used in Zero High® CBG 250.
Take Super Strength Zero High® CBG 250 daily.³
95.5% Cannabigerol Isolate
60-Day Satisfaction Guarantee
Bottle size: 1 FL OZ (30mL)
Total Doses Per Bottle: 30 Doses (1mL x 30)
CBG concentration/ 1mL: 8mg CBG/mL
Total CBG per bottle: 250mg
Extract: Pure CBG Isolate
Carrier Oil: Organic MCT Oil
Third Party Lab Test: View Certificate Of Analysis
¹ Zero High® CBG is triple tested to guarantee it contains 0.00% THC or your money back.
² One 30mL Zero High® CBG bottle lasts up to 30 days, based on average CBG use.
³ This product is not FDA-approved to diagnose, treat, cure, or prevent any disease.

Wellness Plan
Monthly Shipments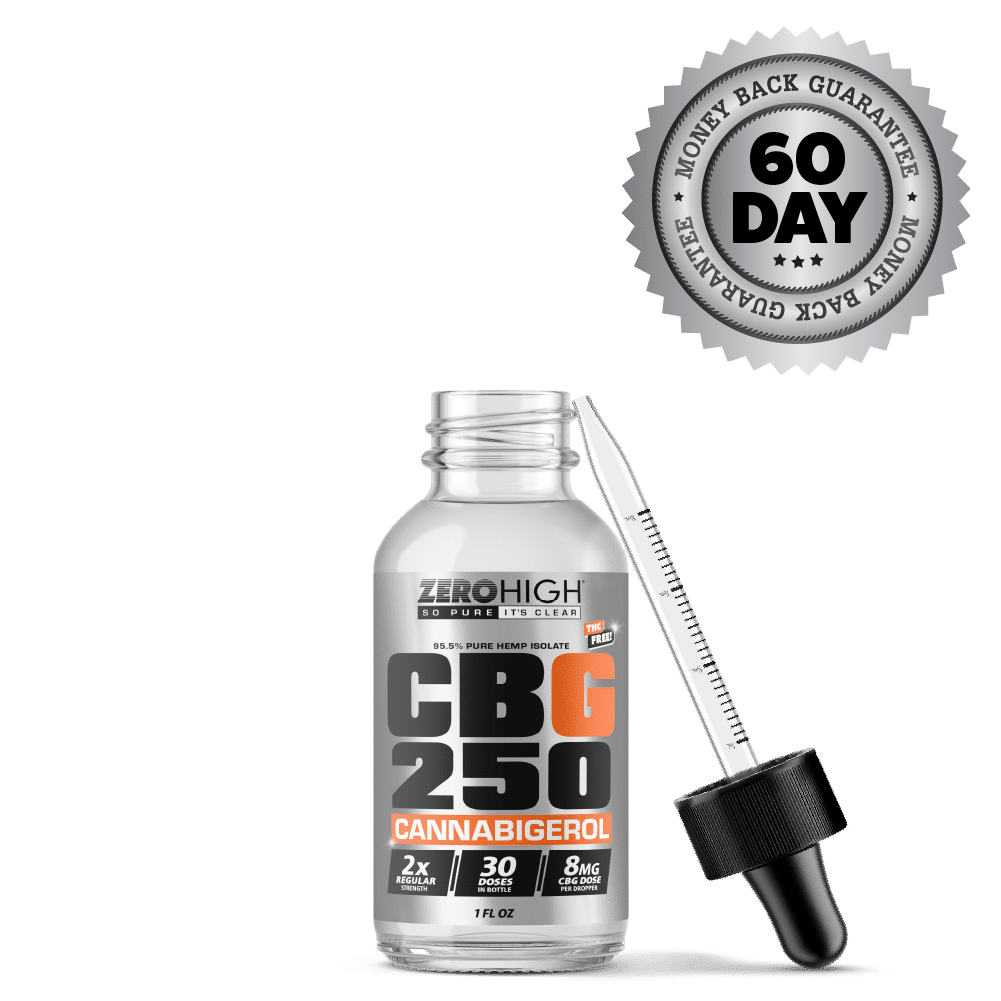 $22.00
MONTHLY WELLNESS PLAN
(30mL / 30 Doses)
Save 10% instantly when you enroll in a Wellness Plan. Make sure you never run out of CBN!
Single Bottle
One-Time Shipment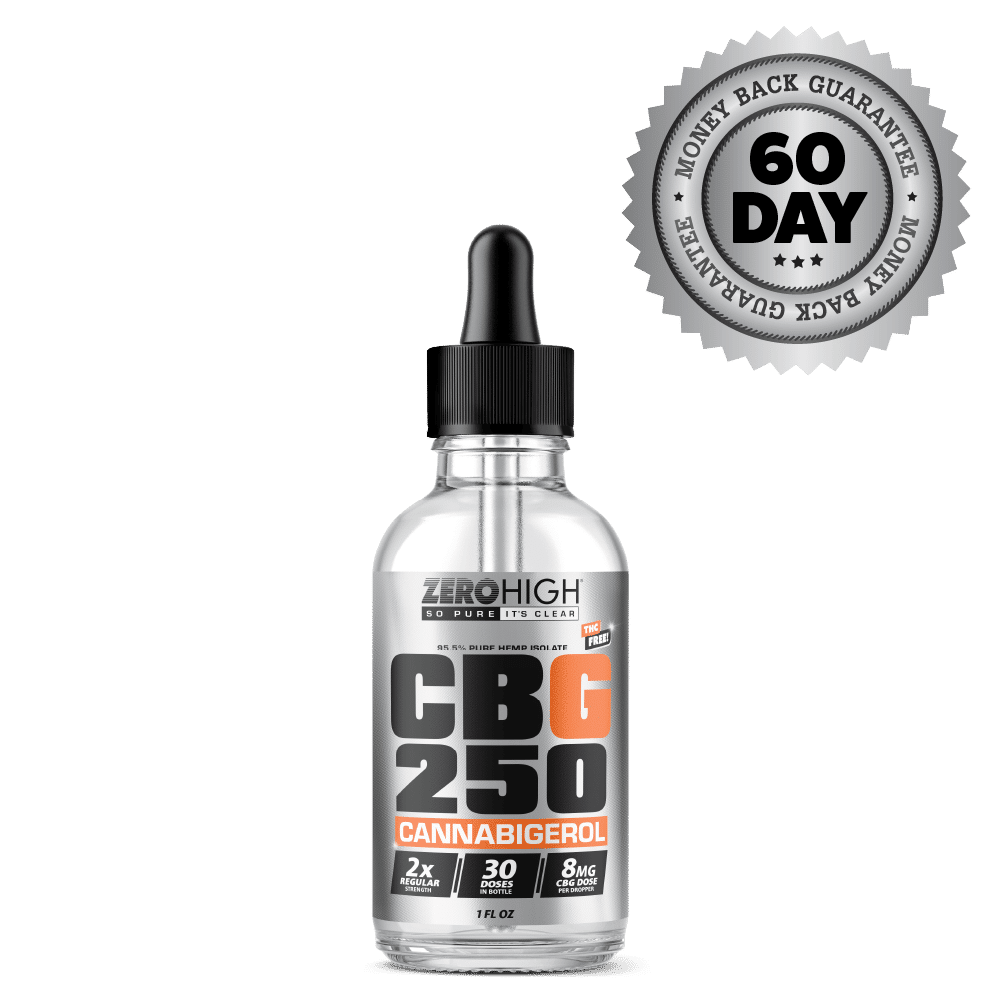 $25.00
ONE MONTH SUPPLY
(30mL / 30 Doses)
Buy a one-time, single bottle shipment.
Three Bottles
Best Savings!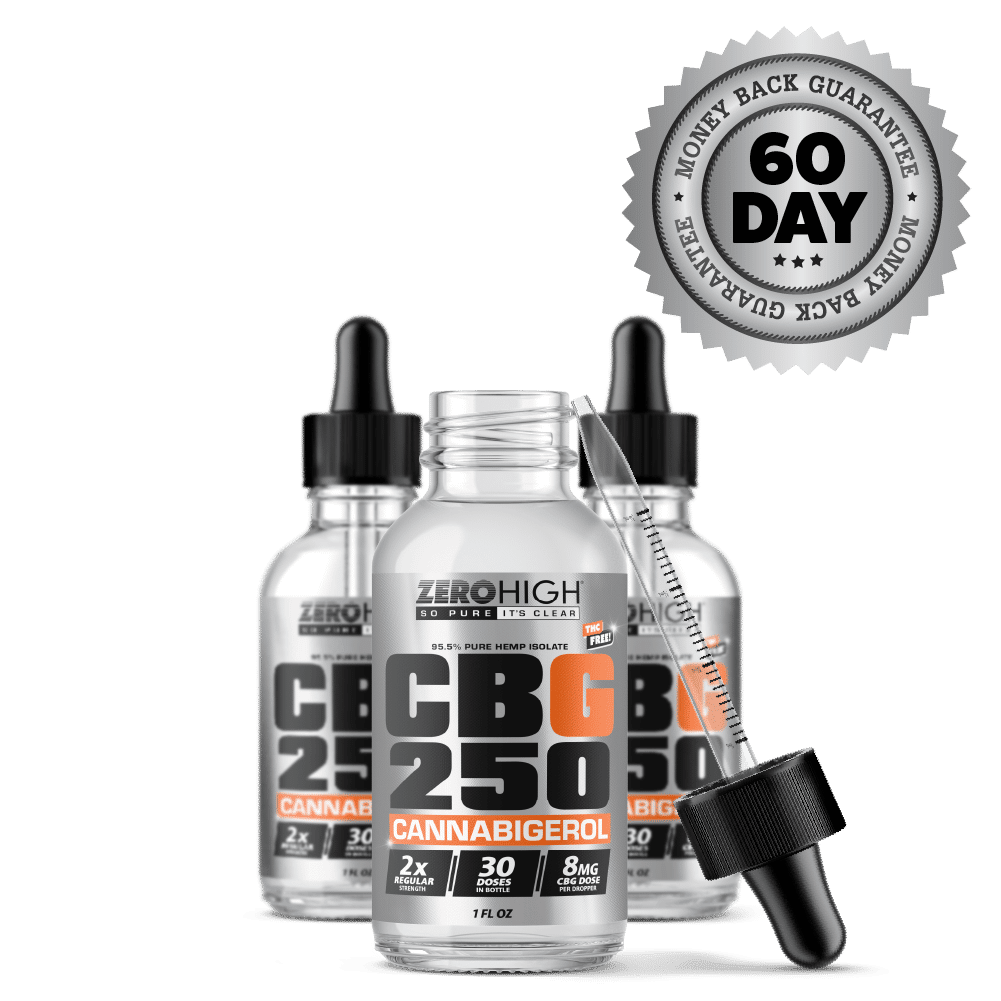 $65.00
THREE MONTH SUPPLY
(90mL / 90 Doses)
Maximize savings — buy your favorite formula in bulk to save $25 instantly (limited time offer).