750MG Full Spectrum CBD SoftGel Capsules
30 Count SoftGels (25mg Cannabidiol per Capsule)

THIS ITEM IS ELIGIBLE FOR BUY ONE GET ONE FREE: Purchase any CBD Softgel package and receive the second one FREE. Please add your preferred item to your cart and your free bottle(s) and coupon code will be automatically applied.
Now Cannabiva 750mg Full Spectrum CBD SoftGel Capsules make it easier than ever to add CBD to your wellness plan!
No more messy oils or pungent smells — Cannabiva rapid release CBD SoftGels are totally odorless, flavorless, and loaded with all of the synergistic cannabinoids, terpenes, essential oils, and medicinal compounds you need to experience a true 'entourage effect'.¹
Each CBD SoftGel is packed with 25mg of ultra-concentrated Full Spectrum CBD Oil, so it's easy to know how many you need to get the job done fast.² Best of all, CBD SoftGels are gentle on the stomach and digestion.
Support your everyday health and well-being with Cannabiva 750mg Full Spectrum CBD SoftGel Capsules!
100% Full Spectrum Cannabidiol
60-Day Satisfaction Guarantee
Capsules Per Bottle: 30
Total CBD Per Bottle: 750mg
CBD Concentration Per Capsule: 25mg
Total doses per bottle: 30 doses
Carrier Oil: USDA Certified Organic Fractionated Coconut Oil (MCT – Medium Chain Triglyceride)
Third Party Lab Test: View Certificate Of Analysis
¹ Contains an insignificant amount of THC (<0.3% THC by volume).
² Lasts up to one month, based on average CBD usage statistics of one to two capsules taken daily.
Wellness Plan
Monthly Shipments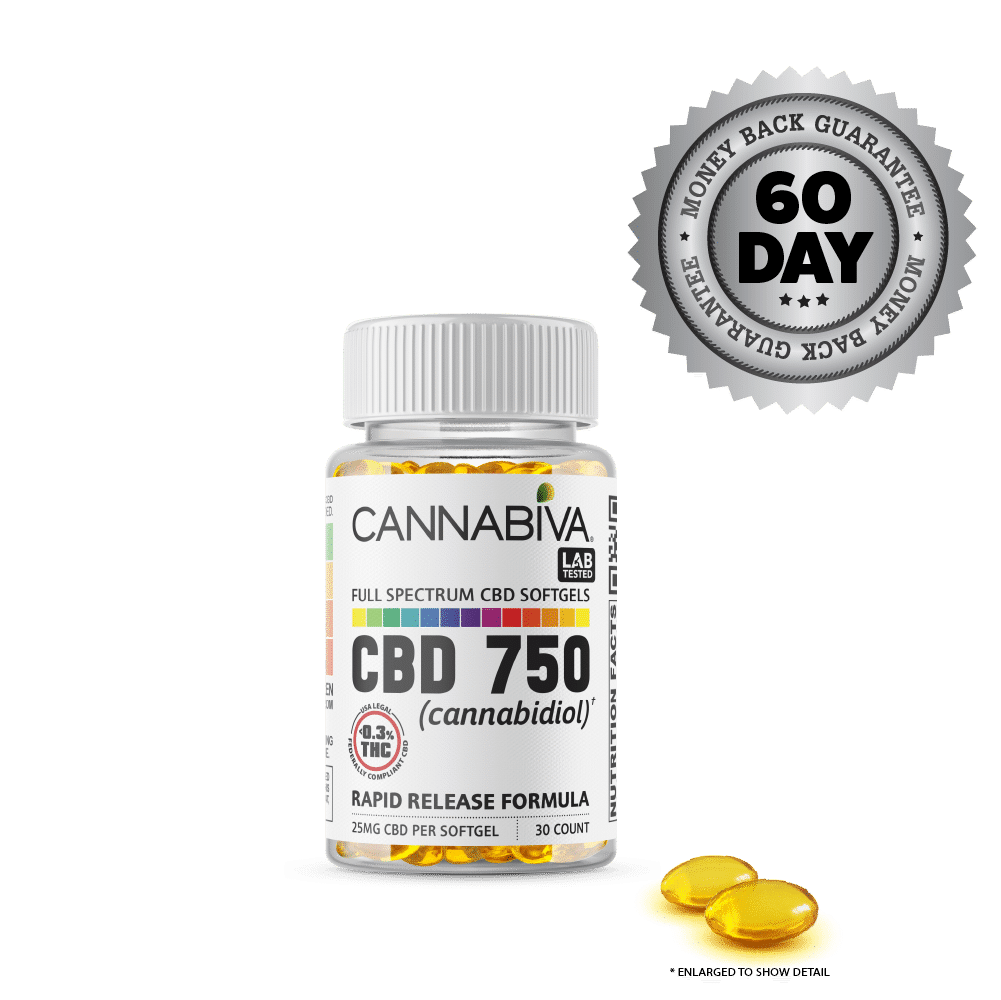 $45.00
ONE MONTH SUPPLY
(30 capsules/ 25mg per capsule)
Save 10% when you choose our Wellness Plan and receive monthly shipments of CBD!
Single Bottle
One-Time Only Shipment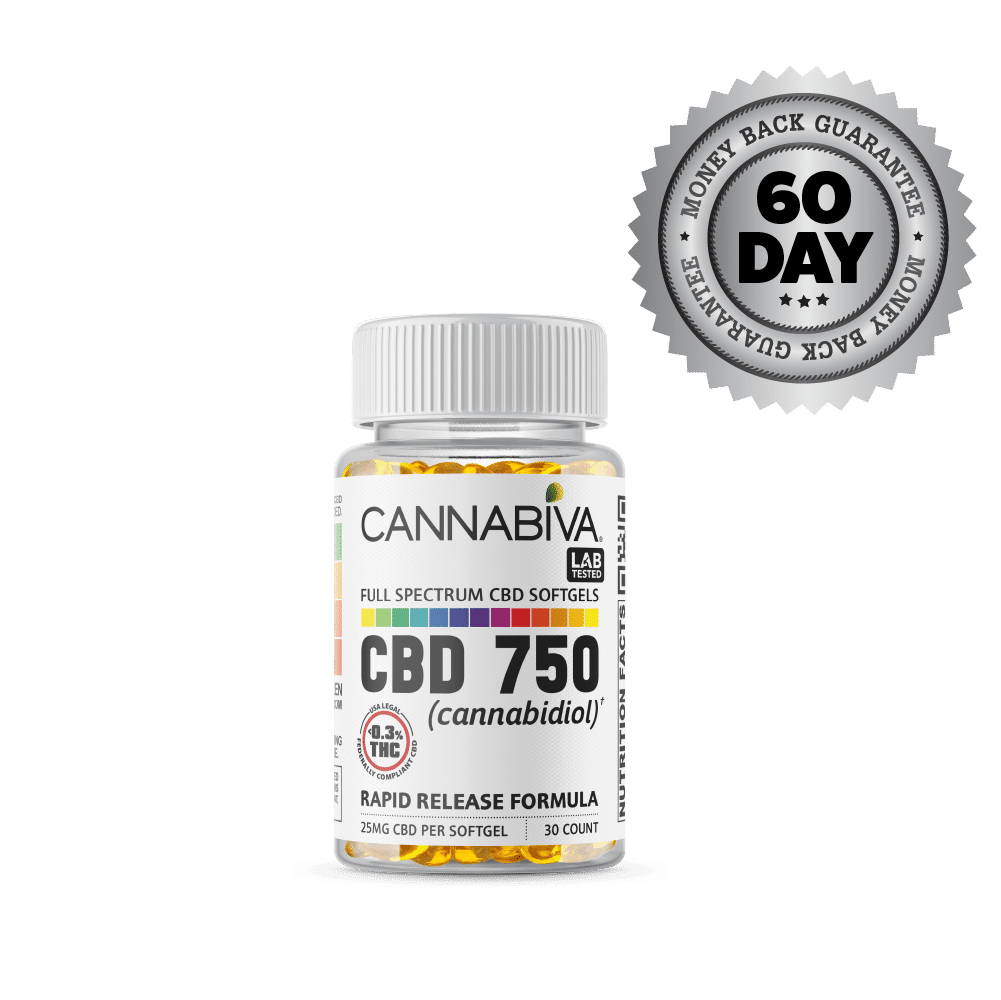 $50.00
ONE MONTH SUPPLY
(30 capsules/ 25mg per capsule)
Buy a one-time shipment of a single bottle.
Three Bottles
Best Savings!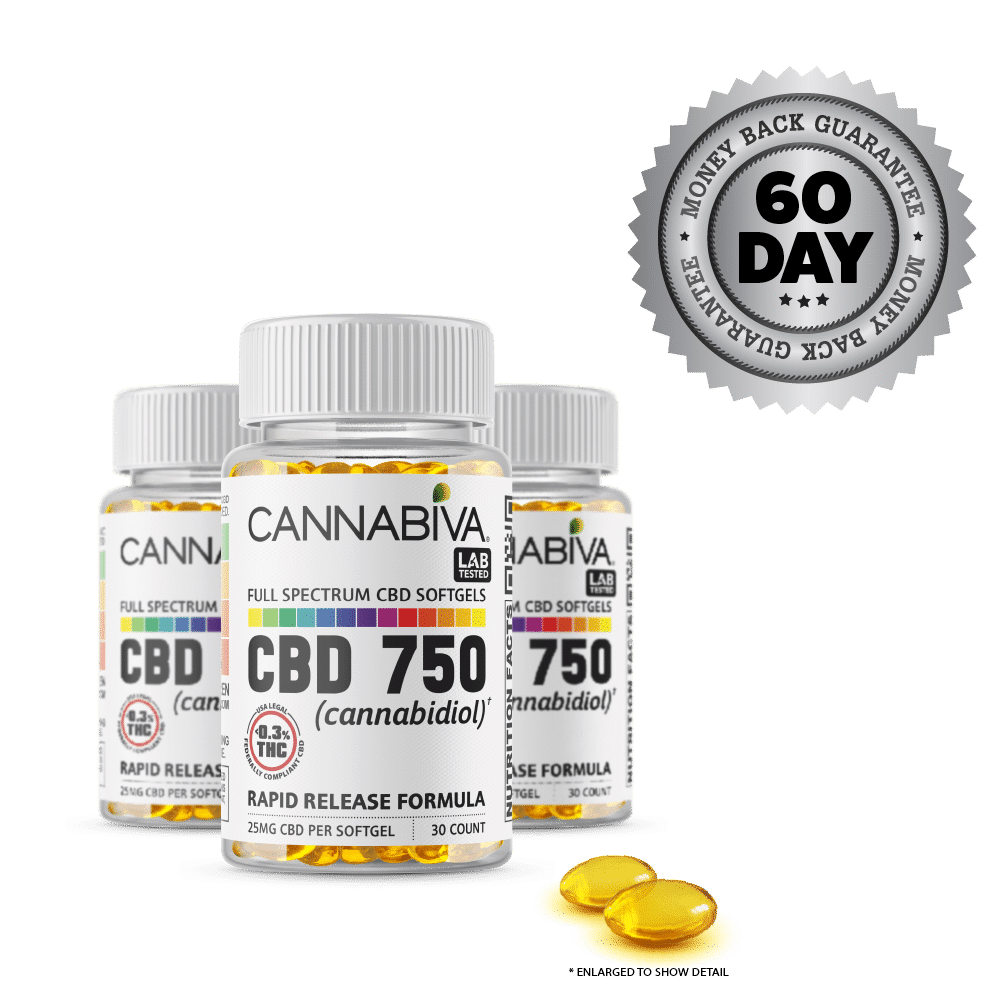 $135.00
THREE MONTH SUPPLY
(90 capsules/ 3 bottles)
Buy three and save $15 (for a limited time only).