2500mg Zero High™ THC-Free Super Concentrated CBD Oil Isolate
(5.0mg/Drop × 500 Doses) 30 mL
Zero High™ brand from Organica Naturals is an advanced CBD oil isolate that is so pure, it's clear — and 100% THC-free!¹
Ultra-concentrated 2500mg CBD formula delivers a powerful dose of 5.0mg of medicinal CBD isolate per drop (83.33mg per 1 mL), so you get over 500 single-drop doses in each 30mL bottle.²
Take Zero High™ CBD 2500mg Pure Cannabidiol Isolate every day to reduce emotional stress, like occasional anxiety and panic attacks, improve sleep quality, and provide temporary relief of minor aches, migraine, joint pain, or inflammation. You may also take Zero High™ CBD 2500mg Pure Cannabidiol Isolate as needed if your wellness concerns come and go.
Zero High™ CBD 2500mg Pure Cannabidiol Isolate supports your health and wellbeing, naturally!
99.77% Pure Cannabidiol Isolate
Bottle size: 1 FL OZ (30mL)
CBD concentration/bottle: 2500mg CBD/bottle
CBD concentration/1 mL: 83.333mg CBD/mL (~17 drops/mL)
CBD concentration/1 drop: 5.0mg CBD/drop
Total single-drop doses per bottle: 500+ doses
Third Party Lab Test: View Certificate Of Analysis
¹ Each batch tested and confirmed to contain zero (0.00%) THC by volume.
² Lasts up to 30 days, based on average CBD usage statistics of 1mL taken daily.

Wellness Plan
Monthly Shipments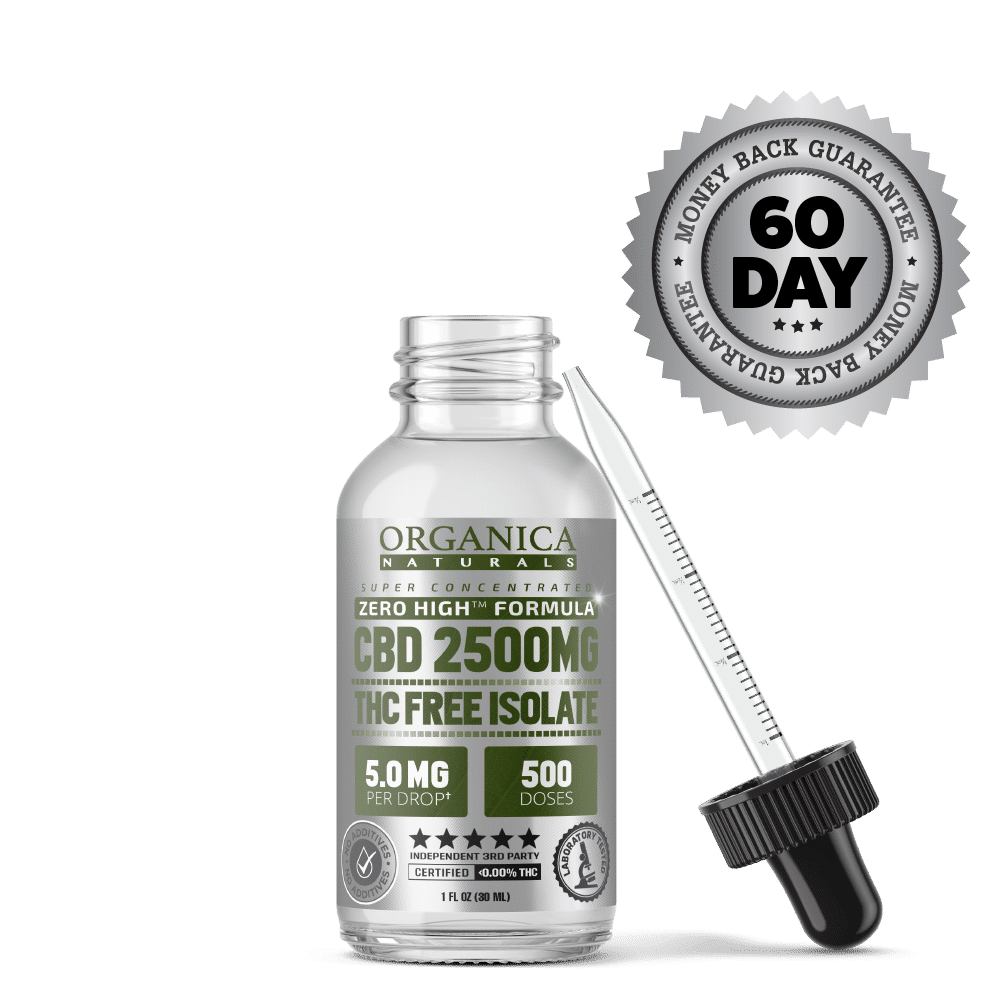 $120.00
MONTHLY WELLNESS PLAN
30mL (500 Doses)
Save 15% when you add to a Wellness Plan and make sure you never run out of CBD!
Single Bottle
One-Time Shipment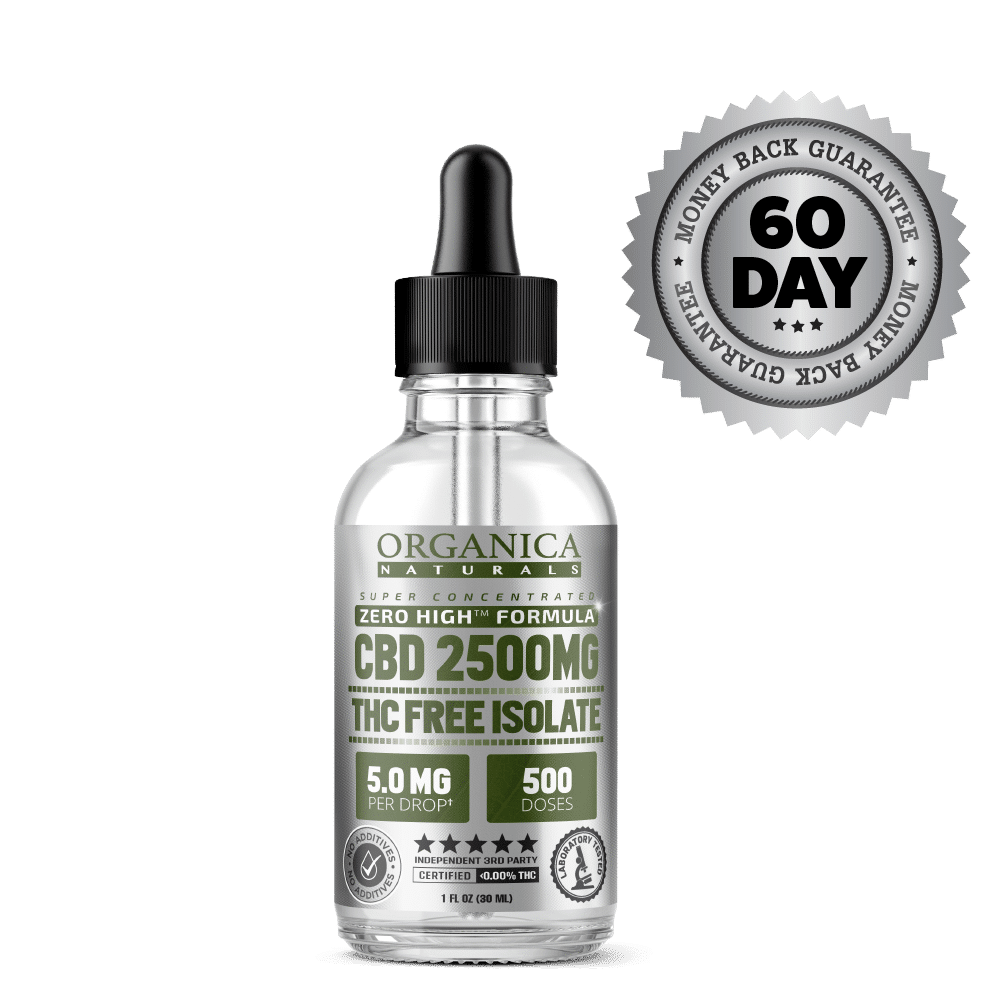 $140.00
ONE MONTH SUPPLY
30mL (500 Doses)
Buy a one-time, single bottle shipment.
Three Bottles
Best Savings!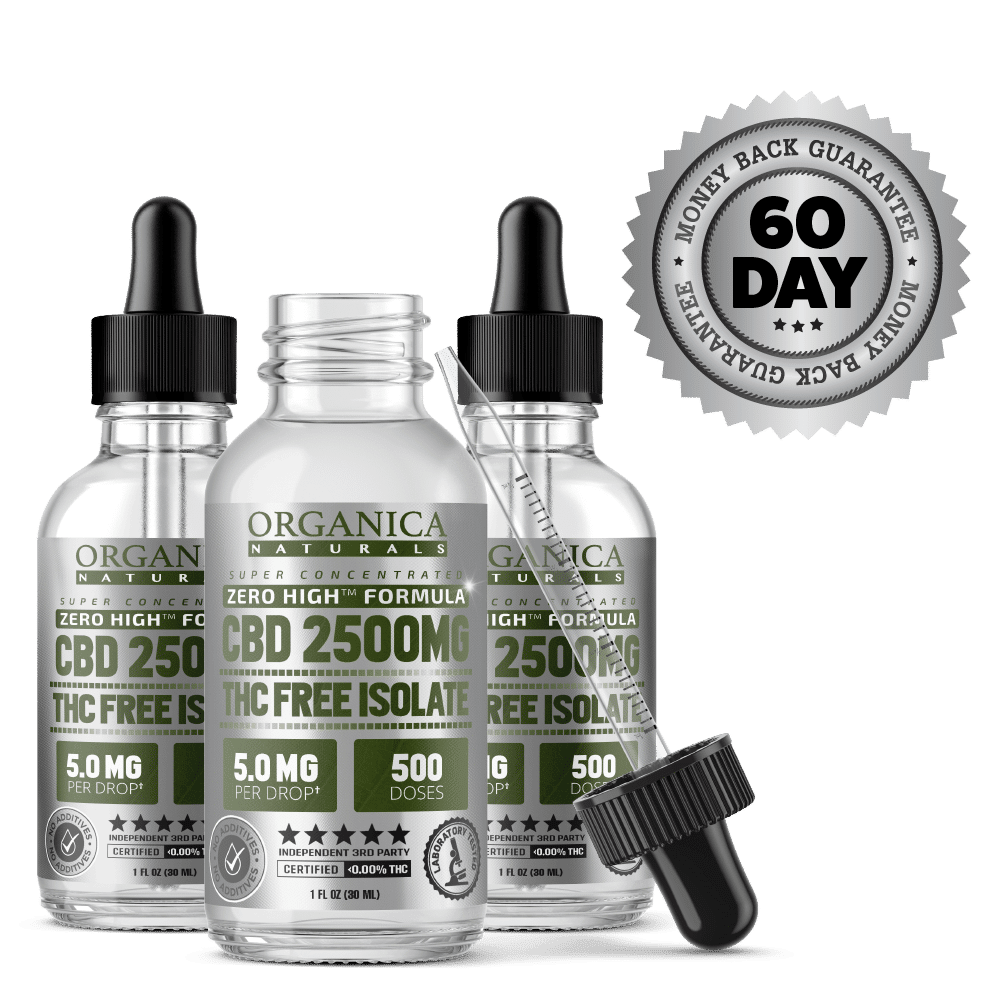 $360.00
THREE MONTH SUPPLY
90mL (1500 Doses)
Buy three 30mL bottles and save $60 instantly (limited time only).